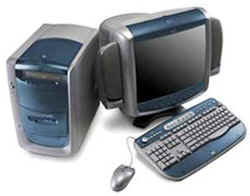 Microtech is an integrated IT solution concern, delivers various IT services viz. Computer Education, Website Designing / Development & Hosting, Software Development, Networking, Internet, Intranet, etc. We pioneered the concept of providing engaging information to the Indian community. The company aims to be the market leader and choice provider for Indians in various IT-related services in India and around the world.
For fulfilling the primary mission of this venture, company has launched this site http://microtechindia.tripod.com to take technology & information to the common man. Company is also setting up a nationwide franchise network to facilitate e-commerce.
Today, Microtech delivers the ultimate IT experience with the integration of our content platforms, offering an even broader range of highly distinctive content and services to our students, users and commerce and media partners.
Microtech offers a broad and varied range of IT products, services and solutions to our students, Internet users, on-line advertisers, and web-based enterprises through the integration of a Portal Network, Advertising Network, Software solutions, Business to Consumer (B2C), Business to Business (B2B) and E-Solutions.